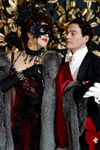 Die Fledermaus
Metropolitan Opera
Prix à partir de € 86.00
Die Fledermaus at The Metropolitan Opera House in New York. Tickets for Die Fledermaus by Johann Strauss at The Met in New York here!

James Levine brings his incomparable musicianship to Johann Strauss, Jr.'s beloved operetta for the first time in his 45-year Met career.

The Met's glittering recent production stars soprano Susanna Phillips as Rosalinde, tenor Toby Spence as her philandering husband, Eisenstein, and mezzo-soprano Susan Graham in the glamorous trouser role of Prince Orlofsky.

Die Fledermaus is sung in German with Met Titles in English, German, and Spanish!
Fantastique
5.0
1 les avis de nos clients
Die Fledermaus
Opéra fantastique : lieu agréable & immense, décors & costumes sublimes.
Mise en scène et la troupe dynamiques & en communication avec le public ...
L'orchestre et le mastrio rythmé, ...
Un opéra à l'américaine à voir absolument ...