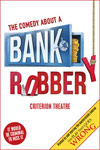 The Comedy About A Bank Robbery
Criterion Theatre
Prix à partir de € 31.70
Un diamant géant. Huit escrocs incompétents. Et un garde de sécurité qui a tendance à s'endormir pendant son travail. Comment tout cela pourrait se dérouler correctement?

Points forts
- Achetez vos billets pour The Comedy About A Bank Robbery
- Choisissez vos propres sièges
- Payez vous une bonne tranche de rire
The Comedy About A Bank Robbery
The Comedy About A Bank Robbery est écrit et interprété par la compagnie de théâtre Mischief qui a aussi remporté en 2015 l'Olivier Award de la Meilleure Nouvelle Comédie pour "The Play That Goes Wrong" and "Peter Pan Goes Wrong". Réservez dès maintenant pour vous payer une bonne tranche de rire.
Il serait criminel de la manquer.
Comment puis-je obtenir mes billets?
Une fois votre réservation terminée, vous recevrez un e-ticket par email. Il suffit d'imprimer votre billet et de l'apporter avec vous au théâtre.
The Comedy About A Bank Robbery Reviews
"This is the funniest show in the West End"
The Telegraph
---
"A Fast and fabulous comedy caper is a joyful night out"
The Times
---
"The best new comedy to open straight onto the West End in decades"
Time Out
---
"Thrillingly inventive and lung-bustingly funny"
The Guardian
---
"A night of spectacular madness"
WhatsOnStage.com
---
"Laughing all the way to the bank"
Financial Times
---