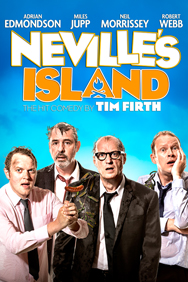 Neville's Island
Duke of York's Theatre
Prix à partir de € 86.80
Don't miss this autumn's star-studded comedy hit from the multi-award winning writer of Calendar Girls and Kinky Boots. Neville's Island is now playing at Duke of York's Theatre in London.

Neville's Island follows the misadventures of four out-of-condition, out-of-their depth businessmen on an out-of-control team-building exercise.

Shipwrecked in the Lake District, menaced by wildlife and with only a sausage between them, our unlikely explorers battle the elements and each other as corporate bonding descends into a hilarious carnival of squabbling, French Cricket and cagoules.