Manchester City vs West Ham
mar, 26 fév 2019

, Etihad Stadium

.

* La date finale du match et l'heure du coup d'envoie sont confirmés 5-30 jours avant le jour du match. Si vous avez le moindre doute, rendez-vous sur le site officiel du club.
* Les matches le week-end sont toujours joués le samedi ou le dimanche, et à de rare occasion le vendredi soir.
* Les matches en semaine sont toujours joués le mardi, le mercredi ou le jeudi.
* Les changement de dates sont en dehors de notre contrôle et nous vous demandons de bien en être conscient lorsque vous préparez votre voyage.
* Vous serez TOUJOURS assis juste à côté de vos amis, juste devant eux ou juste derrière eux. C'est une garantie que nous vous offrons.
* Lorsque vous aurez complété votre réservation, vos e-tickets et un reçu/confirmation de réservation vous serons directement envoyés dans votre boite e-mail.
* Toutes les informations concernant la réception ou la livraison de vos tickets originaux seront clairement indiquées sur votre billet électronique.
* Lorsque vous présenterez vos billets, une carde d'identité valide ainsi qu'une preuve d'achat par la carte de crédit utilisée pour acheter les tickets vous sera demandé.
* Nous vous recommandons de lire attentivement nos termes et conditions pour réserver vos billets de football !



* Premium padded seats, long side / curve location

* Block 209/210 or similar

* Access to stadium lounge

* Cash bar and food outlets

* Match program

* No dress code


Your tickets will be delivered to your hotel in or around Manchester! Tickets for weekend fixtures will be delivered anytime after 6pm on Friday. Tickets for mid week fixtures will be delivered from midday on the day of the game.
Arène/Stade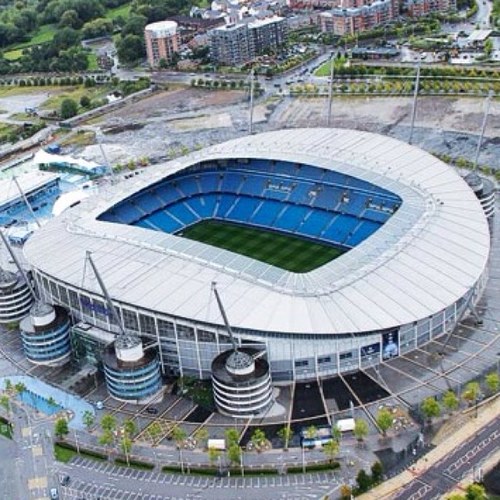 Etihad Stadium
Métro/Subway
Take the train to Manchester Piccadilly. 20-25 min. walk to the Stadium
La capacité du stade
48.500
Itinéraire
Etihad Stadium
Adresse
Manchester City Football Club, Etihad Stadium, Etihad Campus, Manchester M11 3FF