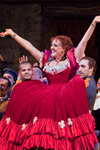 La Boheme
Metropolitan Opera
Prix à partir de € 101.30
Puccini's unforgettable tale of love, youth, and tragic loss returns in Franco Zeffirelli's classic production - perhaps his most beloved staging of all.

Highlights:
- See Puccini's most beloved opera
- Experience world class singers at one of the world's foremost opera houses
- Get the best seats available in your chosen category

What is La Bohème about?
Christmas eve in 19th century Paris; the poet Rodolfo meets the seamstress Mimi, who is sick in tuberculosis, and they fall in love instantly. After some time Rodolfo leaves Mimi, blaming her for his irratic jealousy and she is devastated.

To his friend, Rodolfo confesses that the real reason for him leaving is that he can not stand the thought of his beloved Mimi dying. Mimi overhears his confession and they decide to stay together until spring and then again part ways.

A few months later Mimi is very sick and she asks her friends to bring her to Rodolfo. Their friends leave to buy medicine for her and during their time alone, Mimi declares her love to Rodolfo. All of a sudden she is overwhelmed by her coughing and lies down to rest. Her friends return with a gift she thinks is from Rodolfo so she thanks him and falls asleep - when they come to check on her they realise that she has passed away.


La Bohème is sung in Italian with Met titles in English, German, Italian and Spanish


How do I get my tickets?
- Shortly after your booking is complete, you will receive an e-ticket by email. Please print out your ticket and bring it with you to the Metropolitan Opera House.
Très bien
4.0
2 les avis de nos clients
fantastique spectacle
Très bien chanté , très beaux decors et belle mise en scéne, avec plein de figurants... Un très beau spectacle !
Agréable spectacle
Nous avons bien apprécié cette "Bohême", bien jouée et bien chantée. Nous étions très bien placés. Nous avons été très surpris par les applaudissements et les rires intempestifs des spectateurs tout au long de la représentation...