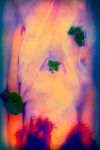 Fog. Vapour. Wisp.
Dark Tunnel at The Vault Festival
Prix à partir de € 21.10
Fog, Vapour, Wisp explores the dark, light and grey hues of humanity whilst begging the fundamental questions; what happens if we lose our soul-skin and how do we get it back? Are we all wandering on a stormy cliff in the darkness? How do we find our way back home? Dive in. The temperature will drop. The pressure will rise. Sometimes there'll be no sunlight at all - but life … always. Hold your breath and let us swim in the ocean of each other, dark and deep. Together, we will dredge up the seabed and see what lies there.