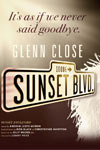 Sunset Boulevard
Palace Theatre - Broadway
Prix dès € 171.20
It's as if we never said goodbye.

Glenn Close returns to Broadway in the tour de force performance that earned her the Tony Award® for Best Actress– and a place in Broadway history– in Sunset Boulevard.

Sunset Boulevard will co-star Michael Xavier as Joe Gillis, Siobhan Dillon as Betty Schaefer, and Fred Johanson as Max von Mayerling.

Featuring a 40-piece orchestra, the largest in Broadway history, Andrew Lloyd Webber's Tony Award®-winning masterwork of dreams and desire in the land called Hollywood comes to the Palace Theatre for 16 weeks only.