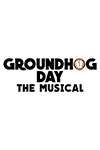 Groundhog Day
August Wilson Theatre
Prix dès € 117.40
Groundhog Day is the story of Phil Connors, a cynical Pittsburgh TV weatherman who is sent to cover the annual Groundhog Day event, when he finds himself caught in a time loop, forced to repeat the same day again and again…and again.

Highlights:
- Experience Groundhog Day live on stage
- Choose your own seats
- Enjoy the play based on the 1993 movie

Enjoy Groundhog Day
As each day plays out exactly the same as before Phil begins to lose hope, but is there a lesson to be learned through his experiences, will he ever unlock the secret and break the cycle?

Now widely regarded as a contemporary classic, Groundhog Day was cited by the Writers Guild of America as one of the 101 Greatest Screenplays ever written and in 2000 was voted by readers of Total Film as one of the ten best comedies of all time.

How do I get my tickets?
Shortly after your booking is complete, you will receive an e-ticket by email. Please print out your ticket and bring it with you to the theater.