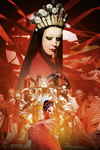 Turandot
Royal Opera House
Prix dès € 267.00
Puccinis last opera, Turandot, returns to the Royal Opera House in London! In this production we get to hear some of the world's leading singers, including Lise Lindstrom and Roberto Alagna. Book tickets here!

Princess Turandot has sworn that no man shall marry her unless he can correctly answer three riddles. Prince Calaf, captivated by Turandot's beauty, takes up the challenge, determined to win her heart or die in the attempt.

Puccini creates a rich soundworld for this dark fairytale, and Andrei Serban's staging is one of the most spectacular in The Royal Opera's repertory. You will hear famous arias such as "Signore Ascolta", "In Questa Reggia"and "Nessun Dorma"- perhaps the most famous aria in the history of opera.

Experience opera at its best with international opera stars at the beautiful Royal Opera House.

How do I get my tickets?
When you have finished your online booking an e-ticket will be sent to your e-mail adress, you just have to print it and bring with you to the theater.