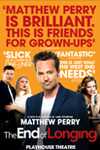 The End Of Longing
Playhouse Theatre
Prix à partir de € 32.40
Internationally acclaimed actor Matthew Perry (Friends, The Odd Couple) leads the cast in the World Premiere of his playwriting debut, The End Of Longing, at the Playhouse Theatre, London, from 2 February – 14 May 2016.

Highlights:
- Secure your tickets to The End Of Longing
- Choose your own seats
- Enjoy a new play written by Matthew Perry

Enjoy Matthew Perry's The End Of Longing
Meet Jack, Stephanie, Joseph and Stevie: four lost souls, entering their forties and searching for meaning. After sharing one raucous night together in a downtown Los Angeles bar, their lives become irreversibly entwined in a rollercoaster journey that forces them to confront the darker sides of their relationships.

This fast paced, and bittersweet comic new play, will be directed by the critically acclaimed and award-winning director, Lindsay Posner
(Speed-the-Plow, Other Desert Cities) reuniting the pair, following their first West End collaboration on Sexual Perversity in Chicago in 2003.

A sharply written and hilarious dark comedy, The End of Longing, will make you realize that broken people don't need to stay broken.

How do I get my tickets?
Shortly after your booking is complete, you will receive an e-ticket by email. Please print out your ticket and bring it with you to the theater.
The End Of Longing Reviews
"'Consistently funny and often laugh-out loud'"
The Times
---
"'Wired, raw and very funny. Superb performances'"
Whatsonstage.com
---
"'Like watching a re-write of Noel Coward's Private Lives strained through Patrick Marber's more flamboyantly explicit Closer'"
Whatsonstage.com
---
"'Matthew Perry's debut play is smart, stylist and sexy. This is just what the West End needs.'"
The Spectator
---
"'Lindsay Posner's production is as slick as a Chandler one-liner'"
Metro
---
"'Funny, sharp and intelligent'"
Gay Times
---
"'Matthew Perry's writing might not be at complete perfection, but it works. It's fresh and it presents a great new grasp that younger audience members can enjoy'"
Gay Times
---
"'Sharp wisecracks delivered with aplomb under Lindsay Posner's slick direction"
Sunday Express
---
"'Tremendously moving'"
Daily Express
---