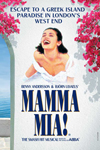 Mamma Mia! Until 1st September
Prince of Wales Theatre
Prix à partir de € 67.10
Mamma Mia, l'une des comédies musicales les plus populaires au monde, est à voir absolument à Londres, sa ville d'origine. La musique est signée ABBA et vous pouvez acheter vos billets pour voir Mamma Mia ici!

Plus de 40 millions de spectateurs du monde entier, dans plus de 175 villes, sont tombés amoureux des personnages, de l'histoire et, surtout, de la musique d'ABBA, ce qui fait de "Mamma Mia" LA comédie musicale pop du moment qui donne la pêche ! L'histoire drôle et riche en couleurs se déroule en Grèce sur une île paradisiaque. Sophie est sur le point de se marier mais ignore qui est son père parmi trois anciens amants de sa mère Donna. Ceux-ci débarquent donc tous les trois sur l'île qu'ils avaient visitée 20 ans plus tôt.

Mamma Mia reprend 27 des plus grands succès d'ABBA dont "Dancing Queen", "Knowing Me Knowing You", "Super Trouper" et "Mamma Mia!". La magie de ces tubes disco qui n'ont pas vieillis, mêlée à l'histoire qui parle d'amitié, d'amour tout en nous faisant rire, fait de ce spectacle une expérience à ne manquer sous aucun prétexte! C'est la comédie musicale la plus jouée actuellement sur les scènes internationales et donc LA comédie musicale du moment, surtout depuis la sortie, en été 2008, de l'adaptation cinématographique. Depuis lors, "Mamma Mia" remporte un succès ininterrompu!

NB: From SEPTEMBER 2012 MAMMA MIA! will move to NEVELLO THEATRE. Tickets from Sep. 2012 can be booked HERE!
Mamma Mia! Until 1st September Reviews
"A GLORIOUS EVENING OF FUN!"
Daily Mail
---
"AN IRRESISTIBLY ENJOYABLE HIT! SHEER HEAVEN!"
Daily Telegraph
---
"INFECTIOUS THEATRICAL ENTERTAINMENT!"
Financial Times
---
Mamma Mia! Until 1st September Communiqué de presse
Night after night, audiences are having the time of their lives at MAMMA MIA!. Catherine Johnson's sunny, funny story of love, laughter and friendship has been thrilling London audiences for over 10 years. More recently ...
Info