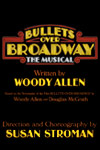 Bullets Over Broadway
St. James Theatre
Prix à partir de € 126.10
BULLETS OVER BROADWAY on Broadway in New York, is a musical comedy based on Woody Allens film. Book tickets for BULLETS OVER BROADWAY in New York here!

A playwright who needs someone to back his new show. A mobster who needs some way to please his showgirl girlfriend. This could be the start of a beautiful friendship -- or a brand new musical comedy!

Based on the screenplay of the acclaimed film, BULLETS OVER BROADWAY brings the talents of Woody Allen and Susan Stroman together for the first time at the St. James Theatre.

BULLETS OVER BROADWAY is loaded with big laughs, colorful characters, and the songs that made the 20's roar, BULLETS OVER BROADWAY is ready to bring musical comedy back with a bang.
Fantastique
5.0
2 les avis de nos clients
BULLETS de Woody Allen
Un spectacle original et distrayant, vraiment drôle. Une équipe de comédiens très dynamique, une super mise en scène qui fait revivre le NY des années folles... à la sauce "polar"
Ils parlent, ils chantent... c'est plutôt facile à comprendre pourvu qu'on ait l'habitude de regarder des films en VO et qu'on ait quelques bonnes notions d'anglais.
en 2 mots, courez-y !!!
BULLETS over BROADWAY
Fan du cinéma de Woody Allen j'ai été agréablement surprise par cette comédie musicale mi parlée, mi chantée... beaucoup d'humour et d'action, une équipe de comédiens chanteurs fabuleuse !