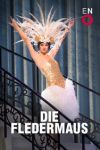 Die Fledermaus
London Coliseum
Prix à partir de € 40.30
Enjoy Johann Strauss' operetta Die Fledermaus at London Coliseum in London. Book tickets for Die Fledermaus at London Coliseum in London here!

Johann Strauss 's classic operetta Die Fledermaus is a comic story of revenge, seduction and mistaken identity, centred on a high society party thrown by Prince Orlofsky. Man-about-town Eisenstein is to be jailed, his wife is being seduced by an old flame , his friend Dr Falke has a plan to exact revenge for a past prank and everybody wants to go to the party.

Light-hearted and colourful , yet sophisticated, this new production from Olivier Award- winning director Christopher Alden is re-imagined in an Art Deco inspired fantasy world influenced by Freud and dream analysis. The staging offers the perfect complement to Viennese Waltz-King Strauss's sparkling melodies, including the joyous "Laughing Song" and memorable chorus in praise of champagne.
Bien
3.0
1 les avis de nos clients
Die Fledermaus
Spectacle enlevé, bonne prestation de l'orchestre et mise en scène soignée. Cela dit, certaines voix nous ont paru un peu faibles et le surtitrage ne marchait pas très bien ce soir-là. Il manquait à cette Fledermaus le petit grain de folie qui aurait pu faire "décoller" l'ensemble, de sorte que tout cela paraissait finalement bien conventionnel avec ses gags un peu forcés et répétitifs. Nous avons malgré tout passé une agréable soirée.